IOI Properties marks the highlight of IOI City Mall Phase 2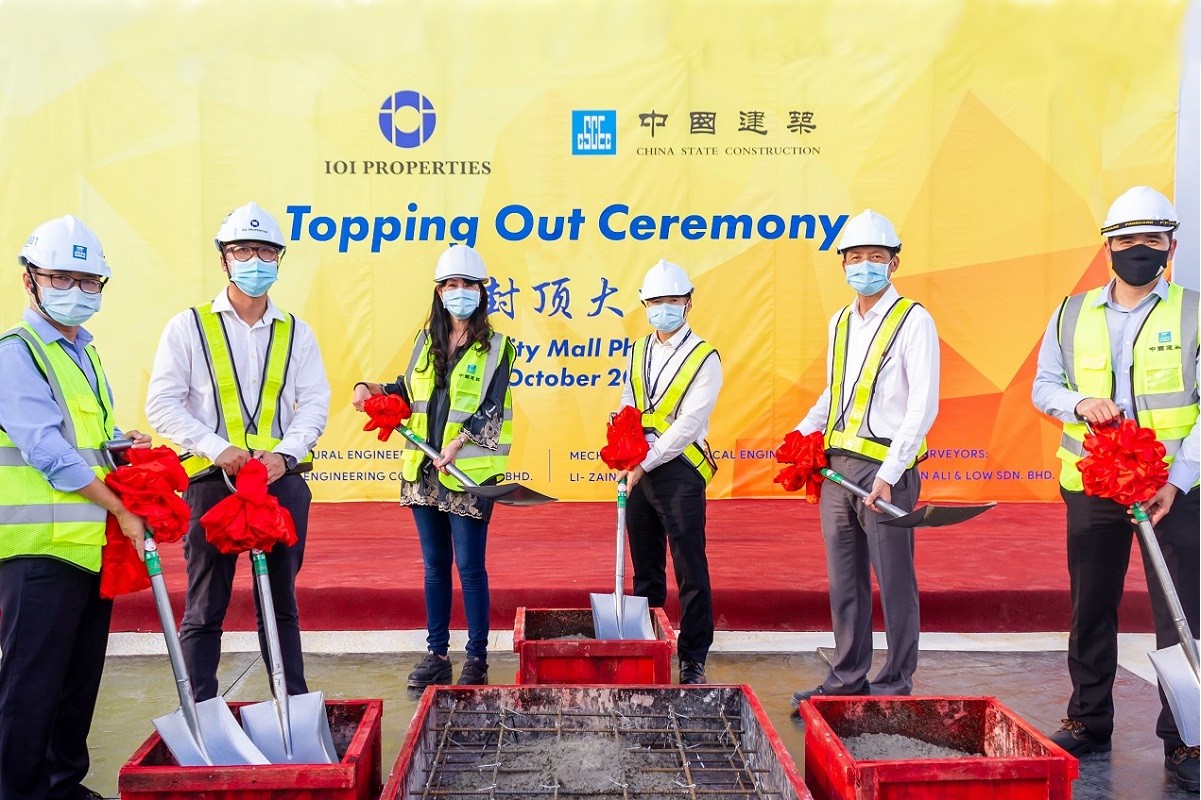 PUTRAJAYA (October 7): IOI Properties Group Bhd commemorated the completion of phase 2 of IOI City Mall at IOI Resort City, Putrajaya to mark the completion of structural work of the mall on October 6. IOI Properties has appointed China Construction Third Engineering (M) Sdn Bhd (CCTE) as the prime contractor for the expansion of IOI City shopping center.
The ceremony was attended by the Managing Director of IOI Properties, Datuk Voon Tin Yow, the COO of IOI Properties (real estate development) Teh Chin Guan, the Senior Managing Director of IOI Properties (operation of the mall) Chris Chong and CCTE General Manager Bai Jin Song. Also present at the ceremony were the mall's civil and structural engineering consultant, architectural and engineering consultant, and quantity surveyor among other business associates.
"We are here to celebrate a momentous occasion and mark another milestone in IOI Properties' journey as an integrated developer. A closing ceremony is a tradition that celebrates the process of building and completing a project. Therefore, today's ceremony recognizes this peak of achievement, "Voon said in a press release today.
Construction of phase 2 of the IOI City shopping center began in June 2018. Due to the movement control order imposed in mid-March to curb the spread of Covid-19, construction of the shopping center was temporarily suspended until early June of this year. Nevertheless, IOI City Mall Phase 2 is expected to open by November 2021.
"IOI City Mall Phase 2 will add approximately one million square feet to the existing 1.5 million square feet, with an occupancy rate of 96%. The high occupancy rate proves that the mall is a great success. We will be ready to welcome buyers and visitors to IOI City Mall Phase 2, which builds on the IOI Resort City concept of living, working and playing, "said Voon.
Phase 2 of the IOI City Mall will include an indoor mall and an awning-covered outdoor shopping promenade. Notable features include a 40,000 square foot exhibition hall, a new cinema concept with an IMAX room, an elegant open-air dining room with a Porte-cochére drop-off area, new fun and educational centers and entertainment for children and adults, a new sports center and gymnasium on the roof. There will also be approximately 9,000 parking spaces.
IOI City Mall is anchored in the heart of IOI Properties' iconic development, IOI Resort City, which brings together all the elements of integrated development and a sustainable lifestyle spread across 788 acres of land in Putrajaya. In planning for IOI Resort City, IOI Properties has ensured that sustainable design features are incorporated into this thriving development as it strives to create a modern green city in both form and function.