Covid-19 figures are reassuring, but city halls for MIQ are not suitable – Professor Nick Wilson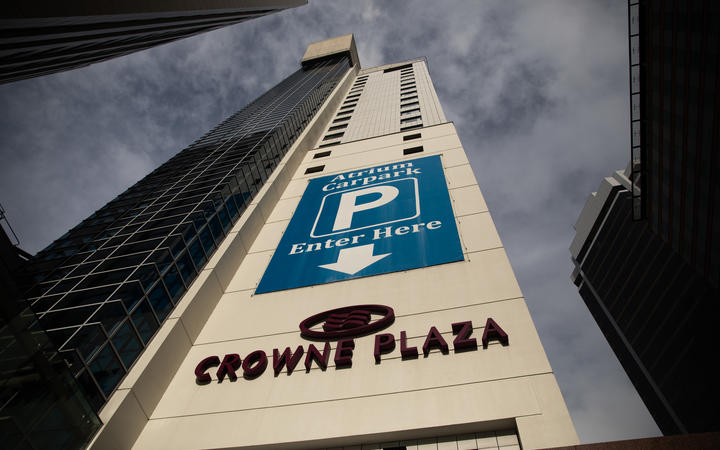 A public health expert says downtown hotels are too risky to be used for quarantine and calls on the government to build dedicated facilities.
The whole country will remain on Alert Level 4 until 11:59 p.m. Friday. The Auckland lockdown will continue until 11:59 p.m. on Tuesday, August 31.
Professor Nick Wilson, public health expert from the University of Otago, said Checkpoint the government's decision to extend the level 4 containment was the correct one.
"There is still a lot of uncertainty and therefore keeping it at Alert Level 4 until at least Friday evening for the whole country seems a very prudent and appropriate step."
But he believed downtown hotels were not ideal places for quarantine facilities and said the risk of transmission to outsiders was too high.
"This place [Crowne Plaza] is very problematic, but also just the amount of shared space and the lack of proper ventilation. We didn't see any MIQ failures at Howard Springs, the facility outside of Darwin, and that's just because all the buildings are one story – they're separate – and there is very good ventilation.
"There are no surprises that we continue to have problems and it is really time now to seriously review the non-use of hotels for the quarantine."
He said New Zealand should follow the lead of Victoria and Queensland and build dedicated facilities that are not found in city centers.
"Unfortunately epidemiologists and infection control experts agree that you need very high quality facilities with good ventilation. It's just a matter of convenience that the government uses these hotels and there is has some sort of rigidity in thinking around this.
"We really, especially with Delta, need to be very flexible in our response; have state-of-the-art facilities that would also help deal with future pandemics."
Another problem, he said, was that the government and health authorities should have speeded up the vaccination of essential workers.
"They should all have been placed at the top of the queue. We saw with the Delta outbreak in NSW as essential unvaccinated workers spread the virus.
"Although the government announced a fast-track procedure for essential workers, it should have happened a long time ago and it should now be really fast-tracked, especially in Auckland and Wellington, as it could help reduce the length of a job. lockdown and help us get through alert level 3 and lower alert levels much faster. "
He said the evidence so far suggested that there had been no major super-spread events in the days leading up to the Alert Level 4 move.
"It is quite reassuring and it is entirely possible that New Zealand will replicate the success of controlling a Delta outbreak as we have seen in Queensland and South Australia."
Wilson said that unless a super spread event emerges, he expects there to be a drop in cases in the coming days.
"The rapid response and the short period between the MIQ failure which saw the first case made controlling this Delta outbreak relatively easier than it has been in places like New South Wales. and Melbourne. "
He said the reason there may not have been a Coromandel case was that the infectivity of the virus varied a lot from person to person.
"Some people are very contagious, they can even infect 100 people at a particular event – and we've seen that in things like Bluff's wedding. [cluster] – but there are many times when individuals do not infect anyone else. There is very extreme variability. "