44th Annual Corona del Mar House Tour to Introduce Coastal Town Residences
Six homes in Corona del Mar and Newport Beach will be open for tours on October 24 to showcase the design and architectural attributes of the neighborhoods.
Proceeds support Colleges and High Schools in Corona del Mar for the benefit of school staff and student programs such as Arts, Science, English and History.
A stop on the tour is the Wagner House, a five bedroom house in the Port Streets neighborhood.
Home owners Brooke and Dave Wagner fell in love with the two-story property built in the early 1970s and considered creating a home from scratch for their family of five.
Since 2003, Brooke Wagner has conceptualized bespoke homes for clients of her design firm, Brooke Wagner Design.
She has been a featured designer on the Corona del Mar Home Tour, the Harbor Day Home Tour and Newport Harbor Home Tour and her work has been featured in Dering Hall, HGTV.com and Luxe Magazine, among other publications.
"We wanted to have lots of indoor and outdoor space and have a fun chill out house," Brooke Wagner said as she stood in the entrance to her home. "It's a good mix of modern and traditional.
The interior designer, a graduate of Corona del Mar High School and the Interior Designers Institute in Newport Beach, said she and family lived in the house for two years before renovating it.
She enlisted architect Chris Brandon of Brandon Architects to realize their vision.
The kitchen features a 10 foot waterfall marble island, handmade white tiles above a second farmhouse sink, and open shelving.
Brooke Wagner said the backyard has become a meeting point for their children's friends – who often represent nearly 50 neighborhood children – who can walk past fruit trees perched on the hillside or swim in a pool equipped with an artisanal diving board from Belgium.
The 44th annual tour will also spotlight the Torelli Residence, a two-story home above the Upper Buck Gully Reserve that underwent its last renovation in early 2016.
The house, which overlooks the canyon and the ocean, was built in 1949 and has undergone a series of renovations.
"I saw it and I said, 'This is the ugliest house I have ever seen in my life," said Liz Torelli, who bought the house with her husband Andrew, he said. 23 years ago.
Instead of demolishing it, the Torellis renovated the structure. More recently, they transformed it into a contemporary cottage with guidance from Penny Smith, Raili Clasen Design, and architect Cynthia Childs, both based in Corona del Mar.
The Torellis returned to the property in November 2016.
The home features sliding barn doors, white planks, a floor-to-ceiling wine cellar, and paintings by Torelli, among other special touches such as memorabilia from the couple's travels in Europe and South America.
The self-guided tour will begin with a light breakfast at Pain Quotidien, Fashion Island, and will include a Pascal Olhats lunch at the Sherman Library & Gardens, and an afternoon reception at Bliss Home & Design.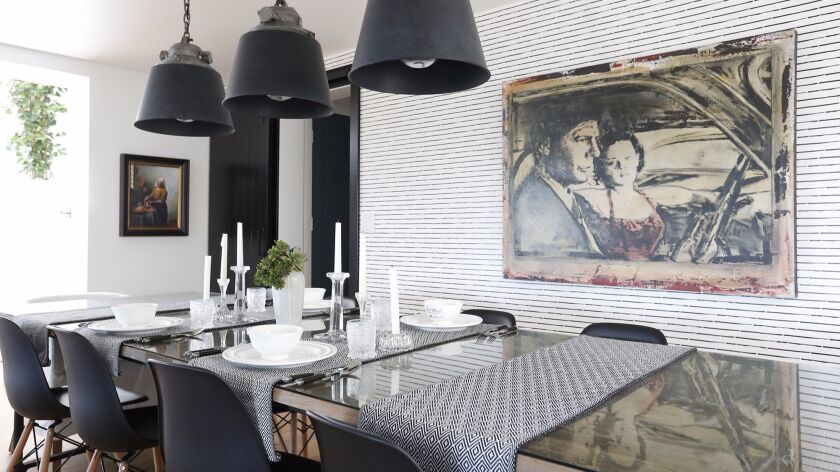 If you are going to
What: Visit to the house of Corona del Mar
When: 8 a.m. to 6 p.m. October 24
Or: Call pickup will be at Pain Quotidien, Fashion Island, 401 Newport Center Drive, Newport Beach
Cost: $ 80
Information: cdmhometour.com
kathleen.luppi@latimes.com
Twitter: @KathleenLuppi